History and present
More than one hundred years of tradition
We are more than one hundred years old. Actually, we are even older than that. If you trace back to the beginnings of dairy farming in the South Bohemia region, a tradition upon which we build, you would have to go all the way back to 1838. It was back then that the first cheese makers were founded in the Schwarzenberg court near České Budějovice.
Madeta itself was born around the year 1902 in the town of Tábor. Back then it was named MLÉKÁRENSKÉ DRUŽSTVO TÁBORSKÉ (TÁBOR DAIRY COOP). It was the first letters of this name that were used to create the unforgettable MADETA brand name.
It survived countless historical events and thus also the property peripeteia that occurred in the 20th century in Central Europe. It changed as the world changed around it. Fortunately most of these changes were for the better. That is why it is stronger today than it has ever been and still just as renowned for its most modern technology and highest quality products.
If you turn to any page in the history of our company, you will find that it is almost always a history of success, production expansion, the development of new products and, without exaggeration, the implementation, for its time, of revolutionary technology. That is a tradition here at Madeta…
Our Past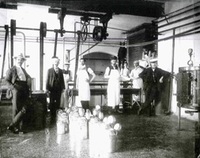 1902 The founding of MLÉKÁRENSKÉ DRUŽSTVO TÁBORSKÉ.
1906 Creation of the MADETA brand name.
1913 The largest milk processor in Bohemia.
1948 MADETA is nationalized.
1960 The creation of the Jihočeské mlékárny company (South Bohemian Dairies), under which MADETA falls.
1992 Restructuring and the concentration of production.
2002 Change of the company name to MADETA, a. s.
1,000,000 litres of milk daily
Madeta is 5 in 1. Six individual plants that are really very close to each other, not only in terms of their brand name, company culture and the fact that they develop and grow on purely Czech capital – they are literally close to each other. They are located not far from each other, practically in one region. However, it is milk that binds them together the most. In one year more than half a billion litres of milk "pours" into its operations, which is a fifth of all of the production in the Czech Republic. It leaves the company's gates in the form of 239 kinds of products with an annual volume of 396,900,000,0­00 items. An unbelievable amount? Not at all. After all, we are the largest processor of milk in the country.
Approximately a quarter of our production is exported abroad, to Lebanon, the United Arab Emirates, European Union countries, Russia, Asia, Africa, and to America. Even though it might seem that with that kind of production volume and similar technology that individual plants would lose their identity — this is not so. Each has its own "speciality" — products that can only be produced there and nowhere else. Because it is precisely there — and nowhere else — that they know how to do it best. Proof is in the taste and interest of consumers.