About us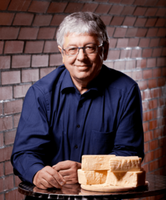 MADETA a. s. a pure Czech company formed by five stand-alone factories, all placed in a beautiful landscape of the South Bohemian region.
The fundamental principle of MADETA is to produce its dairy products as truly and according to the original recipes for more than 100 years. We belong to only a few producers on the market and we pride ourselves of not using any artificial preservatives or emulsifiers and of using only a natural colors and flavourings. The quality and real taste of our products is based on the premium-quality milk coming from Czech cows, processing more than 0.4 billion litres of milk every year. After processing, the milk comes back to our customers in more than 240 different products of various flavors, packaging and sizes.
MADETA's dairy products attract our customers abroad as well – we proudly export to more than 15 countries in Europe, North and South America, Middle East, Asia and Africa. All our factories are IFS certified and hold the CZ mark allowing us to trade our products across the EU.